We've all seen them. We all know how fun it is to fill them out, and how quickly you receive a declination when another agent beats you to the market. But when you do reserve that market, how quickly do you know if you've got a shot at getting a quote, or better, one that you can sell? If it's more than a week you might be doing it wrong.
Good underwriters are overworked, bad ones love to give the impression. They typically handle multiple territories with multiple agencies per territory and multiple agents per agency. Then you have seasonal bottlenecks with large concentrations of renewals, like 1/1. So put yourself in their shoes. You have 20ish submissions in your work cue. How are you deciding the priority- order of renewal date, total premium, risk appetite? Well it is up to them, and as human beings they tend to follow the path of least resistance. So, are you providing a more resistive or less resistive path with your submissions? 
The Account Summary is your way of providing that less resistive path. A one page snap shot of your prospect so your underwriter can quickly give you a thumbs up or down to pursuing. The ingredients might vary but the elements tend to be the same – high level exposure like core business operations, payroll and sales volume and allocation, vehicle and equipment counts, locations, premiums, and anything notable (e.g. a safety committee, or getting in front of open claims).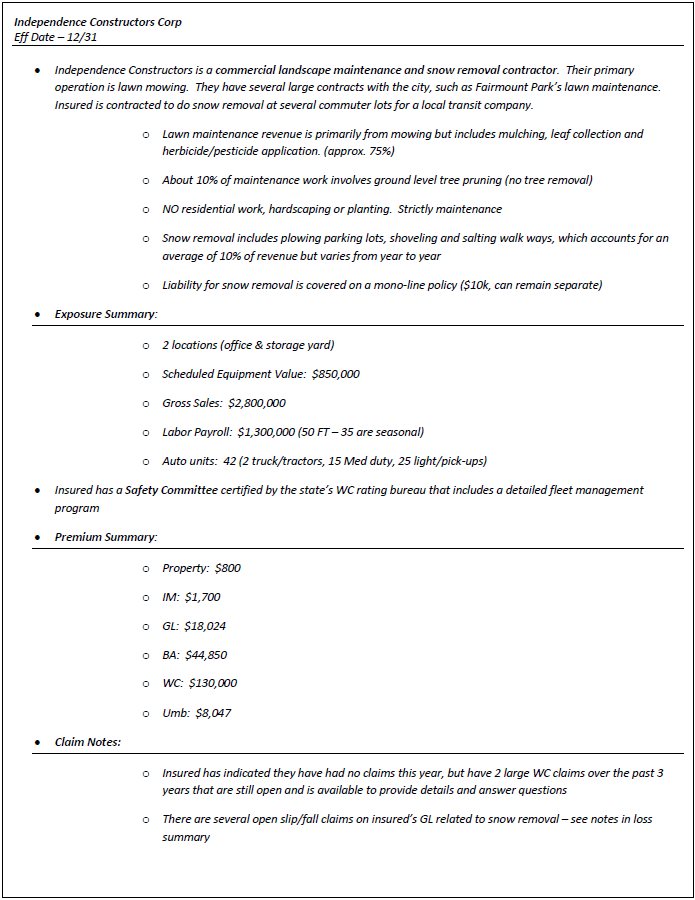 What do you think? If you have 20 submissions to look at ranging from 10 to 80 pages of acord apps, one that has the relevant, high-level info you need to make a preliminary decision summarized in a single cover page, it becomes rhetorical.
All we're looking to do here is reduce the turn-around time on 'should I spend more time working this opportunity with you, or not.' Even if you don't get the answer you want, a nice side-effect is a better working relationship, which has its own payoffs in the long run.