Tutorials
Creating & Saving a prospect list



Location, Effective Dates, Class Codes and Company Name fields are available for all states. Other search fields vary by state depending on what is available. Here are some important items to keep in mind while creating a prospect list:

You can switch between a County or Zip Code radius search for location by clicking on the link indicated with a green arrow

Effective Dates must be in MM-DD format

Class Codes may be sorted numerically by class codes or alphabetically by class code description by clicking on the 'sort' link indicated with an orange arrow.

-Class code ranges must start with a lower class code and finish with a higher # class code or you will get an error

**When switching between county and zip code, or sorting class codes, all other fields will reset – so if you previously enter the Effective Dates, then 'sort' your class codes, it will erase the dates you previously entered and you will have to re-enter them.

You can search for a business by name by typing in the first few letters of the business name – ensure you have cleared all other fields by using the "reset" button at the bottom of page


Clicking the "Search" button will execute your search
Clicking the "Reset" button will reset all search parameters

After executing your search, a box will display below the search interface allowing you to name and save it. It will always be available until you delete it and can be found in the Dashboard or Saved Search menus.
List View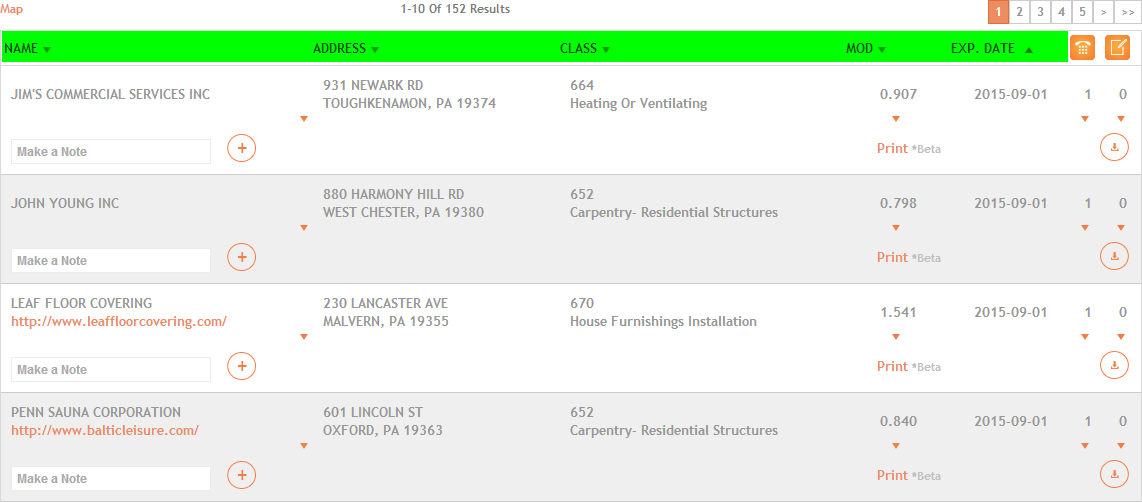 List is sortable by any of the header rows highlighted in green
List view displays the following information from left to right: Business Name, Address, Primary Class, Mod (if available), Policy Expiration Date, the # of contacts available and # of notes made under your user account
Accessing Company Demographics

Clicking on the area highlighted in green (name and address area) will display available demographic information
Users have the option to add information to their database using the drop down selection box and clicking the 'add' button
Accessing Additional WC Info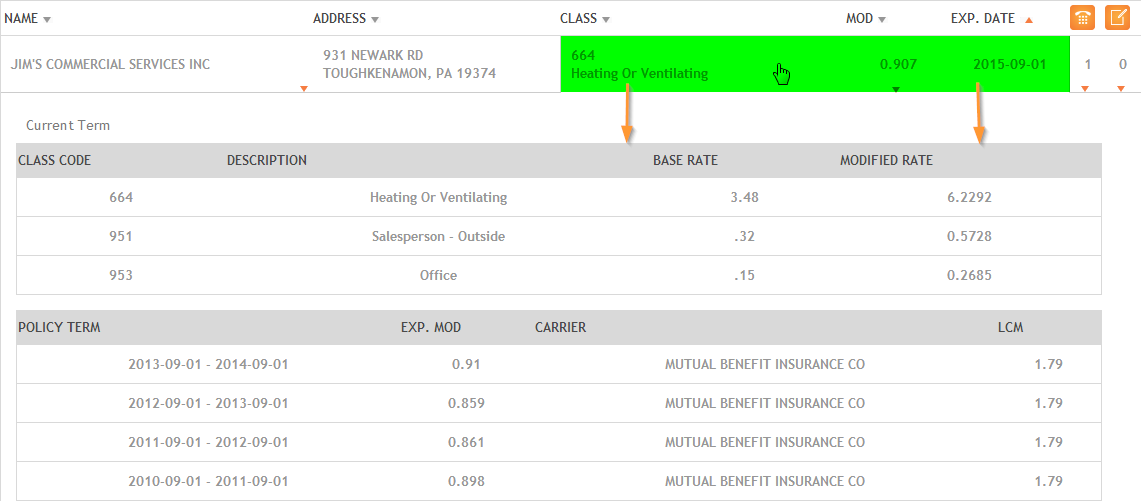 Clicking on the area highlighted in green (Class, Mod and Exp Date area) will display available Workers Comp information
Accessing Contact Info

Clicking on the area highlighted in green will display available Contact information
The # shown in this field relates to the # of contact information available
Users can add their own contact information to their database using the structured contact fields
If a website is available for the listing, the link will be displayed under the Name, as indicated by the green arrow
User Tools

Clicking on the area highlighted in green will display Notes made within your organization
To make a Note, simply type in the "Make a Note" field in the lower left corner and hit enter or click the orange "+" button to save
Clicking on the button in the lower right corner, as indicated by the green arrow, will save the listing to your Follow Up List
Clicking on the "Print" link will display the listing in a printable format